Unique Features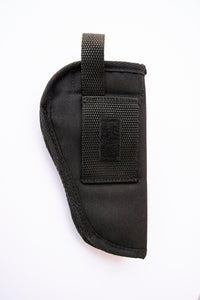 Universal holster designed to fit most small, medium and large framed Semi-Automatics. Secure your weapon with the 3/4 inch Hook & Loop retention strap.
BUY NOW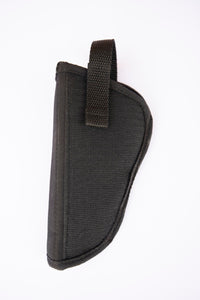 Entire back surface area is Hook & Loop, allowing for an extemely strong hold on looped fabric surfaces. Every holster includes a 4x6 inch "Holster HangerPad" so you can "Hang it Anywhere."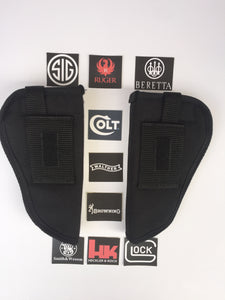 Each holster features a 2.5 inch Belt Loop with an innovative, sewn-on, removable Hook & Loop labeling system so you can identify the type of firearm at a glance.
Perfect for interior safe doors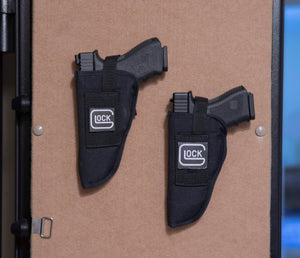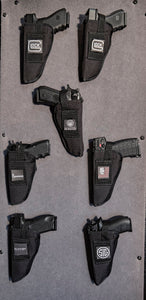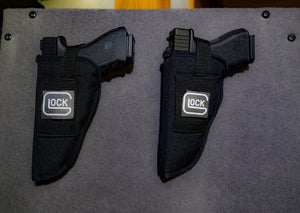 Hang it Anywhere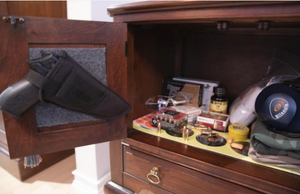 Cabinet Door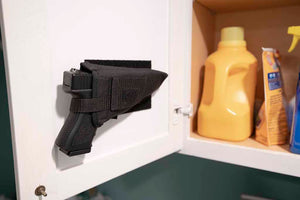 Laundry Cabinet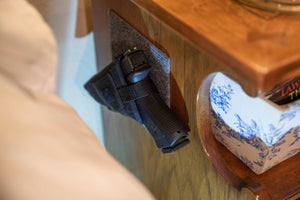 Nightstand
Take it Everywhere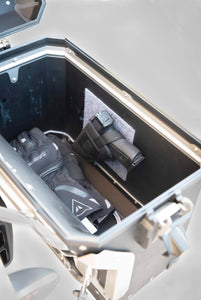 Motorcycle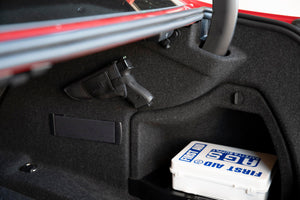 Car Trunk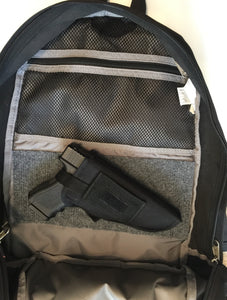 Backpack
Testimonials
These Kohroo Tactical holsters are perfect for my Safe door.  I now have plenty of room in my Safe for other guns in my collection and with the large surface area of the Hook & Loop on the back, I am amazed that even my heavy all steel Autos hold tight.  An added bonus is that I can use the Hook & Loop labeling system, so I know which gun is in which holster.

John N
I love that the Kohroo holster is designed as an actual holster and not just a "holder."  It fits both my Glock 17 & 19 perfectly and with the Hook & Loop retention strap—it's not going anywhere.  Also, proud to support made in America and not some imported holster.

Roger H
The ease of access is great.  I have my .45 hanging in the closet attached to the included "Holster HangerPad."  When I want to go to the gun range, I just pull the gun and Kohroo holster off the wall and attach to the inside of my range bag where I have another HangerPad.  It's a very safe way to carry because I know exactly where it is in my bag and it doesn't float around.

Ted K
I am truly impressed with how well these Kohroo holsters hold to the included Hangerpad and how well the pad sticks to the Safe.  My Gun Safe has steel interior doors, so I stuck the Hangerpad right on the metal. It stays like it's "nailed" on.

Jenny M